Now recover the increase in stamp duty cost from builder based on precedence given in this article
Stamp duty increase from 5% to 7% has taken the buyers in Noida/Greater Noida region by surprise. For long, they have been bearing the cost of increasing circle rate due to delay from builder side. While on previous occasions, buyers could not organize themselves well for circle rate negotiation with DM and State government; there was some resistance when it came to recent news of stamp duty hike being approved by state government.
While the actual notification is still awaited, there is no doubt that it would come any day and the authorities are trying to exceed their target margins by as much as they can till the same is notified. Once notified, the rush for registration is again expected to take backseat and hence affect the exchequer wealth. Since the voices of revolt have settled over last week, notification looks like a foregone conclusion. In such a case, only option left in front of buyers is to push the builder to pay for the increased stamp duty. We feel that builder will logically have to pay for increased stamp duty provided  OC has been received and builder has given physical possession to the buyers but not initiated their registry before the threshold period (till the time stamp duty was/would be 5%). This may also apply to the cases where possession has been delayed for no valid reasons.
We hereby offer an opportunity for buyers to push their builders by quoting the below statement (in writing) by Supertech builder. Supertech builder has clearly set a precedence for other builders to follow. Buyers should ask the builder to follow suit and provide in writing the confirmation that builder would bear the increase in stamp duty cost.
Please read the letter below: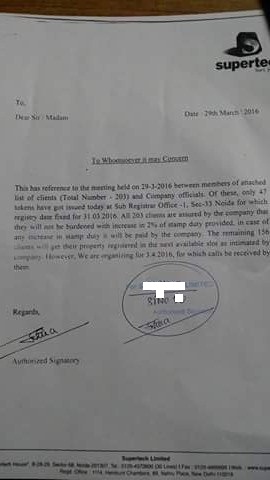 Below is the text of the letter:
"This has reference to the meeting held on 29-3-2016 between member of attached list of 203 clients and company officials. Of these, tokens have been issued for only 47 clients for which registry date is fixed as 31-3-2016. All 203 clients are assured by the company that they will not be burdened with increase in 2% stamp duty provided in case of any increase in stamp duty it will be paid by the company…"
In case your builder has also agreed to do so, please share with us so that other exploited buyers are also benefited.
Also read: Check how much the builder should pay for stamp duty increase
Comments/Feedback invited.
Last updated: April 2, 2016 at 14:32 pm