Temporary Occupancy Certificate could come to rescue of endless waiting end users
Is your builder taking too long to get occupancy certificate for your flat?
Chances are that either
i) Noida authority has found some major non-conformance to byelaws that may risk occupants or
ii) There is a stay on providing occupancy certificate (like in case of NGT's stay order).
If none of the above two is true, then your project stands a good chance to get Temporary occupancy certificate for your building.
You may need to demand the same with builder and/or Noida Authority.
When the builder applies for completion of building, Noida authority's technical personnel does an inspection of the compound.
(We have discussed before as to what all construe to the completion of a building as per Noida/Greater Noida byelaws.)
Post inspection, Noida authority comes up with the list of non-conforming pre-requisites for the completion.
While an occupancy certificate is only issued when all requirements are met, there is a provision of issuing Temporary occupancy certificate that many of us are not aware of.
Where the Chief Executive Officer on the certificate of the technical personnel is satisfied that the temporary occupation of a building or any portion thereof before its completion does not adversely affect public welfare, may permit temporary occupation of such building for a period as he deems fit.
Issues like 'Pending dues from builder' can be a possible candidate for temporary occupancy certificate as the same does not necessarily pose risk to resident's safety and security.
For issuing a temporary certificate, the technical personnel from Noida Authority who inspects the compound can submit a form for issuing the temporary occupancy certificate listing down the open issues that the builder should otherwise fix going forward in a stipulated time period.
Format of form for issuance of Temporary occupancy certificate is shared below for reference.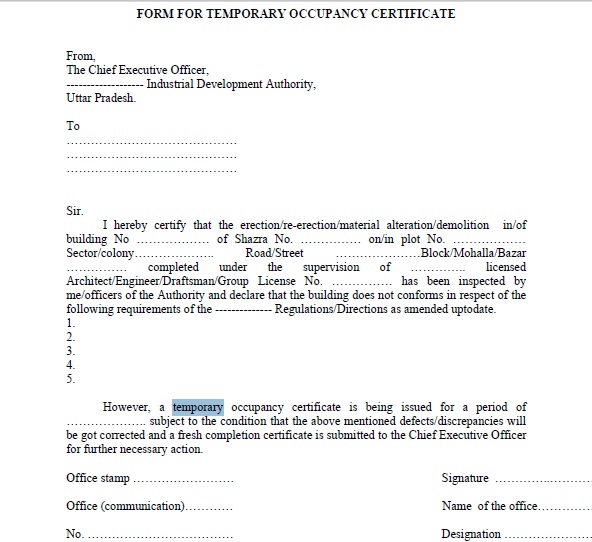 Comments/Feedback invited.
Last updated: May 19, 2015 at 18:28 pm