No end to builder's diktat
As if delay in possession, poor quality and lack of basic amenities was not enough, few builders in Delhi NCR have now found another way to make life miserable for the buyers.
After an endless wait for possession, when flats are eventually ready, builders have started asking buyers to sign on papers that bear approval of buyers waiving off all their rights for demaning penalty or compensation of any other nature. In other words, it implies buyers losing their rights to contest against any penalty or compensation in future.
This however is not completely true. If a buyer has maintained a trail of concerns and has raised the same in writing (prior to signing the papers) giving an impression that he/she would be forced to accept and sign given certain financial/personal constraints, this could hold good in favor of buyer in the court of law, in the same way as one sided BBAs do.
Lotus Panache, PAN Oasis promoters are just some of few such builder groups asking their buyers to sign these papers.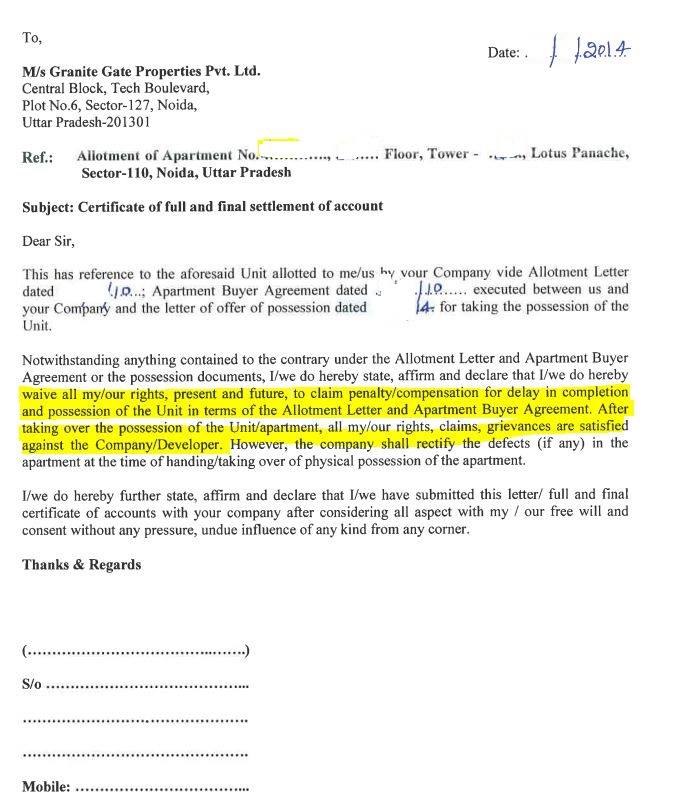 Our suggestion:
From a buyer's perspective, it is critical to send email/letters or both to the builder mooting their concerns about the same before signing the document. After taking advice from a lawyer in this matter, a buyer may mention "I would be accepting the final agreement under compulsion to get the possession of flat due to personal constraints without waiving my right to file a case in court and demanding my rightful penalty or damange." It should be a competent way of saving ones right along with securing possession.
Comments/Feedback invited.
Last updated: March 18, 2015 at 18:37 pm