Things to do before you move in to your flat
We all love the idea of moving in to our own flats.  In an apparent haste to move to our flats, forgetting few basics is common these days. We share a list of things to do before you move in to your flat: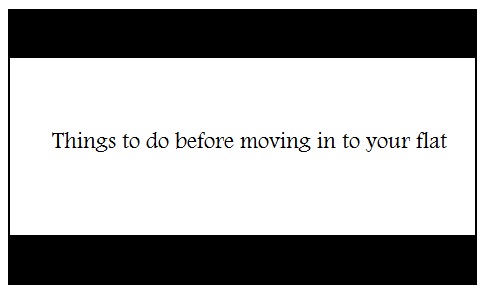 1) Check for signs of seepage:
Builders are liable for seepage warranty for 2 years in UP and Haryana. Hence, regularly checking for seepage even after receiving possession/keys, is not a bad idea. Look out for seepage in and around kitchen, bathroom and balcony sharing walls. Get if fixed before you start wood work.
2) Check for drainage blockage:
Again, this is where builder maintenance takes control. Drainage could get blocked in balcony, kitchen and baths. Try to pour bucket of water through the drainage to check if it passes through without any stagnation. While there is no guarantee it may not happen later, it is still a better idea to check for blockage. Also, wood work near or inside drainage points shall be done in marine ply as they have higher proportion of water resistance property.
3) Pest control:
Before moving in, getting wood work and other fittings done is common these days. But, pests could be menace if they get a handle to your flat. Hence, getting Pest control done before moving in a must especially for flats on lower floors. Complete Pest control can be done with 3 years AMC at a cost of 4k to 6k for a 2bhk flat.
Comments/Feedback invited.
Last updated: July 26, 2015 at 14:38 pm