A beginner's search for a beard Trimmer- Philips QT4005/15 review
Many of us have an intense disliking towards a clean shave.
However, managing a beard is a tedious task to say the least.
This necessitates usage of a trimmer .
Trimmers are available in market for as low as 200 Rupees.
However, due to the debated yet unfounded side effects of a trimmer, a good quality trimmer is suggested.
A good trimmer shall be easily rechargeable. Also, a trimmer of choice shall have enough blade life.
With the above pre-requisites, I started discussions with those used to trimmer shaving.
Post my conversations, I had no doubts left that Philips is the leader in trimmer industry.
This made my search a little simpler.
Based on user ratings, I reached to the conclusion of buying a Philips QT4005/15 model 6 months back that costed around 1.1k.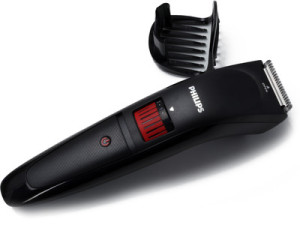 My experience thus far has been exceptional and I haven't had an issue to comment on till date.
It is easy to handle due to its ergonomically sensitive handle design. Trimming is a smooth process and you are likely to get accustomed after one or two tries. No skin irritation or cuts experienced. Recharge time is 10 hours after which it gives 45 minutes to an hour of cordless trimming. Precision of trimming could be set to as low as 0.5 mm to 10 mm which is exceptional when compared to its competitors.
Philips QT4005/15 is undoubtedly the best trimmer for a start.
User Ratings:
Flipkart: 4.25/5
Snapdeal: 4.5/5
Junglee: 4.25/5
Comments/Feedback invited.
Last updated: September 29, 2014 at 4:23 am