Why should one be extremely prudent while buying in NCR?- NCR Buyers group protest against growing builder's misconduct
Buyers from NCR are going through the worst nightmare of their lives. Their projects are delayed beyond tolerable limits. Above that, the free hand given to builder means they can befool their customers through unreasonable practices like change in layouts and poor quality offerings.
The unrest and pain among NCR buyers was evident during Saturday's peace march held at Noida.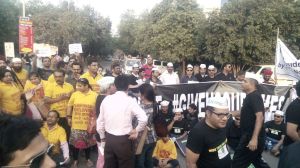 More than 800 buyers that included individuals and families from various projects in NCR gathered to protest against builders atrocities. The buyers group under the banner of "NCR Home Buyers"marched from GIP till Apeejay school via Metro route (besides Sector 18 and 16 metro stations).  Buyers of Noida, Ghaziabad and Faridabad projects were in majority. Few of the builders/projects whose buyers seemed most affected were Jaypee, Unitech, Parsvnath, BPTP, 3C, Today Homes, Gardenia, Antriksh, SDS.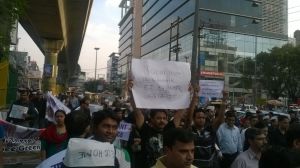 The buyers, holding banners and wearing caps, demanded immediate possession of their flats in promised state.The buyers were protesting against inordinate delays by builder on pretext of force majeure clause in their allotment papers. They allege that builders have taken more than 90% payment and have not even completed 50% of their complete project and have projects delayed by more than 2 to 3 years. Builders try to cover up by giving reference to force majeure which does not hold good since all attributed causes are always under control of the builder.
Secondly, under U.P. Apartment Act, builder is supposed to share details of all alterations to site and flat layout plans but it is alleged that builder is conveniently ignoring the buyers right by not sharing copy of Form A which the builder submits to Noida Authority.
Thirdly, buyers allege that in some cases, the builders have also blatantly refused to comply with their catchy amenities/offerings that appeared in public advertisements in newspapers and have shamelessly disowned the same on pretext of terms and conditions mentioned therein.
Last but not the least, Buyers also feel that Noida Authority is not doing enough to control the open atrocities of the buyers. They urged U.P. and central government for their much needed intervention to bring the builders to task.
Buyers demanded for immediate implementation of real estate regulatory bill retrospectively.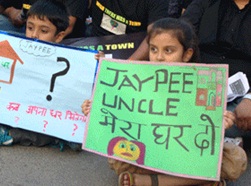 On administrative front, the buyers group had already sought all necessary permissions for the protest and police ably supported the same. The protest was beamed and covered on majority of news channels and newspaper.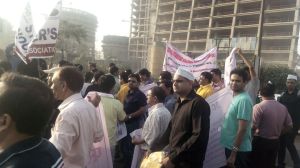 Last updated: November 3, 2014 at 21:37 pm