Delhi world public school Noida extension scores big in CBSE board results, proves our Survey right
In what is a testimony to our extensive school surveys conducted every year, Go4Reviews has constantly ranked DWPS (previously DPWS Noida extension as the top school in the region especially from Academics perspective. (Refer http://go4reviews.in/2016/08/list-of-top-schools-in-noida-extension/ for mode details). Go4Reviews had also awarded the school (along with Lotus valley) for Academic Excellence in year 2019's Go4Reviews-SchoolBrainer award. And we are proven right yet again. Delhi world public school DWPS Noida extension has scored big in CBSE class X 2019 board results which were declared yesterday. With an average score of 87.05, the school leads the 20 odd schools in the region (6/7 of those schools participated in board exams this year).
The school had the highest score of 92% and the lowest score was as good as 83.6%. The average score for class X Board results for DWPS Noida extension was an excellent 87.05. The school students have performed very well in Science, IT and English subjects. Principal of the school, Mrs. Jyoti Arora, was all praise for the students. Principal stated that while this is no mean feat, the school intends to improve upon it further next year and has brought some really good faculty for senior classes starting class IX.
Below is summary of the Delhi World Public school CBSE Board results: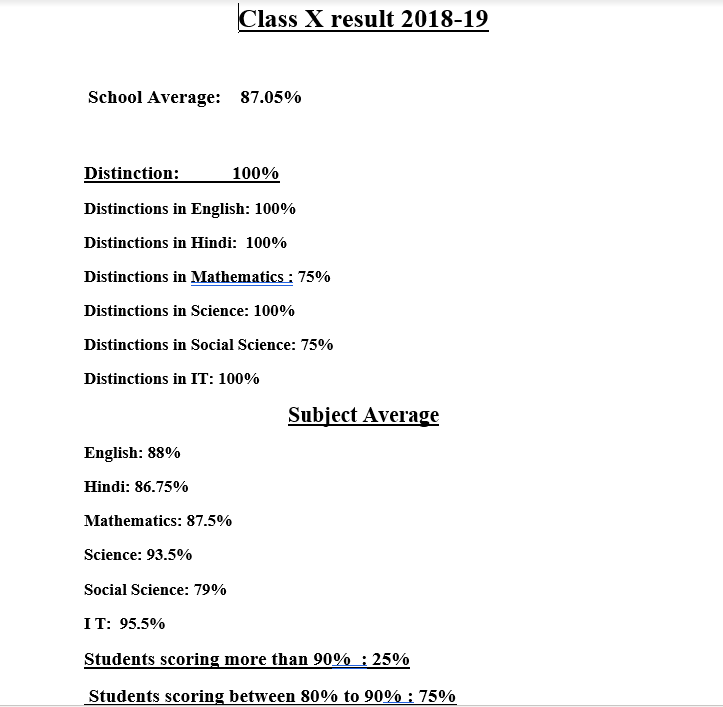 DWPS Noida extension is currently one of the only few schools that has CBSE affiliation for Senior Secondary classes. School is offering Science/Commerce and Humanities stream for Class XI and XII. Currently, it is also offering scholarships to bright kids. Go4Reviews looks forward to have more good schools in the region so that the overall level of Education peaks up.
Last updated: May 9, 2019 at 16:33 pm