Consumer court case versus RERA – Which one to choose?
RERA has been a hot topic for every real estate buyer since it came into picture. For a better view of RERA, we previously touched upon some of the frequently asked questions on RERA. Before RERA came into picture, consumer case used to be the most obvious and preferred choice for a real estate buyer. But with the real estate sector being regularized, the buyer faces the question of which one to choose – Consumer court case or RERA? Before we give you suggestions on what to choose, lets have a quick look at how the two stack against each other by looking at this table for comparison – Consumer court case versus RERA.
| Consumer case | RERA |
| --- | --- |
| Slow. Takes a year to 3 years to pronounce judgment. | Faster. RERA to pronounce judgment in 60 days in usual circumstances. |
| In case of filing at NCDRC, if the judgment is challenged by builder, End to end processing would be faster as Supreme court is the next level for appeal. | RERA's judgment can be challenged by builder. In this case, entire processing could be a time consuming process. Appellate Tribunal of RERA can hear appeals that can further be routed to High Court and then to Supreme court. |
| Costlier. Requires payment of lawyer charges. | Complaint application costs 1000 Rupees but may require travel to RERA office for complicated cases. |
| Not meant for investors. | Can help investors too with compensation for delay/quality. |
| For those who have got possession but want to complain on delay, quality, amenities etc, they can do so within 2 years from cause of action. | Not much helpful to people who have got possession. |
| Gives an option to fight as group of buyers or as an association. | Currently doesn't have a window for groups or associations. |
| Applies to those projects as well that have received (full) completion certificate. | Does not apply to projects that have received (full) completion certificate. |
Based on the above, below would be our suggestion on the pertinent question. In order to make the approach more understandable, we have tried to represent the suggestion in form a decision driven flow chart. According to the nature of issue and buyer credentials, the best advisable step is branched. It is assumed that the buyer has already done follow ups on email and registered posts seeking for redressal of the issue and the builder has not paid heed to the same.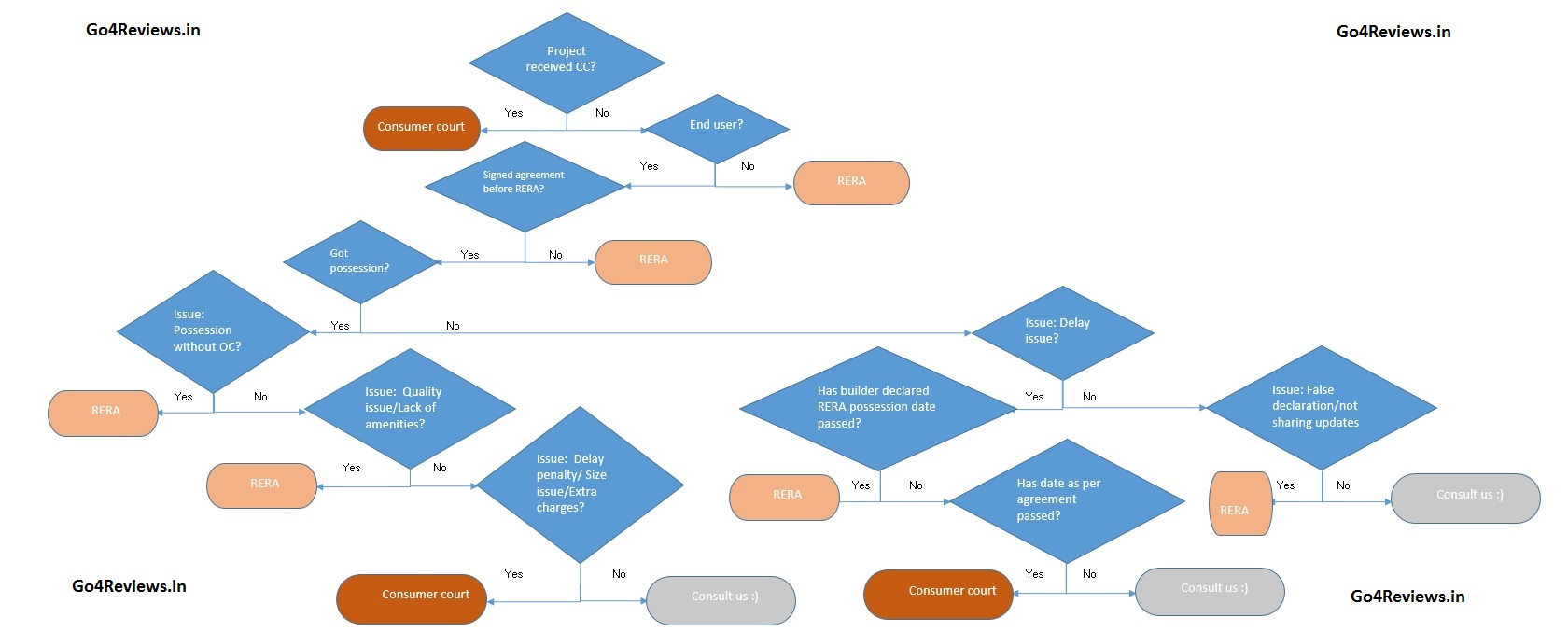 Feel free to write to us if you have any further questions.
Last updated: May 22, 2017 at 20:25 pm