Hockey – A golden game abandoned by one and all
It hurts while we write this article.  Field Hockey, a golden game of past seems to have been completely abandoned by even the most coveted newspapers.
The indifference to Hockey has well been attributed to India's performance of late but whats disappointing is that even a much more well organized display of passion and hard work by Indian hockey players, most of whom are newly found talent, is not enough to find favors among journalists and sport lover alike.
It was not long back when India hockey team defeated the power house of hockey viz. Australia by a convincing margin of 4-2 during Azlan Shah Trophy 3 months back. The coverage though was far far demeaning in comparison to the one for Cricket world cup that had just preceded it. And now all limits have been crossed. India is participating in Hockey world league and except for one match against Australia, has done well to reach Semi-Finals of the championship where they are slated to play Belgium on Friday. On their way, they defeated an ever-improving and fast paced Malaysian team. But, the media and the general public again did injustice to the team by completely mortifying the significance of the victory as against something as trivial as an IPL team ownership. Even the less significant India Bangladesh series was more in news when compared to the hockey league in its build up.
See excerpts from Hindustan Times and Times of India below. TOI published the hockey news at the last page of its sports section followed by almost all other sports and games. HT was a step ahead and hardly had 15 lines of the entire sporting extravaganza at perhaps the least reading hostspot (at bottom of last sports page):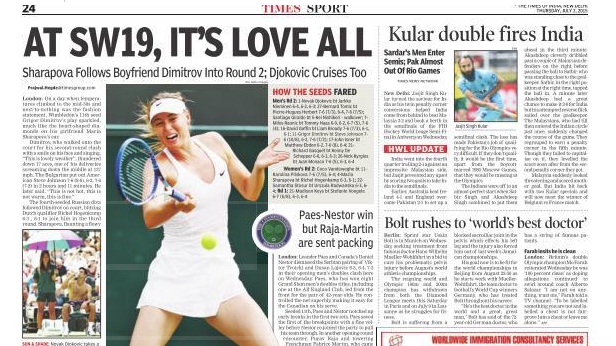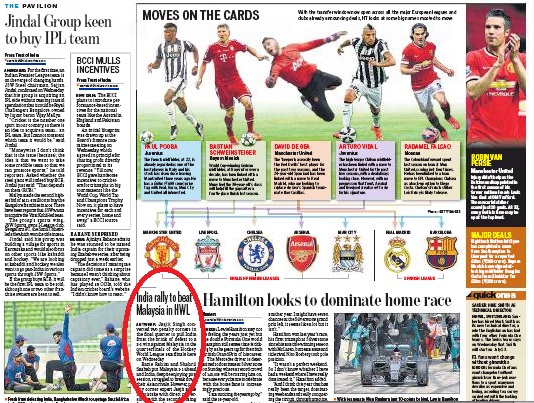 We have been an avid supporter of hockey as a more agile and scintillating sport over cricket. For some comparison on why we have a strong inclination towards Indian hockey as a sport:
While BCCI and cricket team players are busy filling their pockets (beyond sport through commercials and rights) with unsurpassable amount, the hockey players leave on meagre pay and limited sponsorship options.  While BCCI does not represent an Indian public body, Hockey India does so. While BCCI is strongly against  inclusion of sports and participating in Olympics, Asian and Commonwealth Games which is true representation of a nation, Hockey associations thrive on it. The only instance when Cricket was included in these sports was in 1998 in Commonwealth games when BCCI sent a very weak team to help rest most of their players completely undermining the pride of representing nation.  While hockey as a sport, burns around 476 calories in an hour from each player, the calorie wasted while playing Cricket is almost half and that too momentarily for a few (mostly by bowlers going through long spells).
When even such hard word and intensity followed by true pride of representing the country can not drive fans and journalists to prefer Hockey over cricket, it indeed is disturbing and this article is just a means to vent out our frustration and anger towards such irresponsible journalism.
Do you feel the same? Do you share the same thoughts? Comments/Feedback invited.
Last updated: July 2, 2015 at 23:15 pm