Do complainants actually get the awarded compensation post consumer case? The shocking truth!!!
We have been dormant for few days as we had been working on this story for quite a while.
The final outcome of a consumer court's judgment which went in favor of buyers is one of the grey area for many. To discover the same, we researched on around 3 popular national court judgments in Delhi NCR. One of the judgment was for Unitech Gurgaon's project, another for Parsvnath Greater Noida's project and third one was for KST Infrastructure's Faridabad project.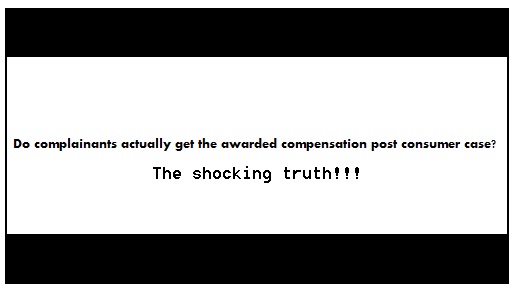 The Parsvnath project in question is Parsvnath Privilege Complex and the two complainants were awarded 7 lac compensation along with 18% p.a. interest for delay in 2014 by NCDRC.
The KST Faridabad project involved around 25 complainants and total of 10 lac compensation was to be paid as per judgment made in 2014.
In case of Unitech gurgaon project, around 5 complainants were asked to be given 50k compensation each along with around 50k per month rent in year 2013.
In case of KST Faridabad, builder delayed payment by 6 months and finally paid off with no extra interest on the request for financial consideration to the court. Per person, the compensation turned to be 40k plus 5k fees i.e. 45k after 2 years from the beginning of case.
In case of Unitech project, the builder pondered on going to Supreme court but then entered into an out of court settlement with the buyers, offering the buyers higher size flat which are unfortunately yet to be delivered. So, the story of struggle for the consumers didn't stop there.
In case of Parsvnath project, since the compensation amount was huge, builder again tried to enter into an out of court settlement with the owners. We couldn't ascertain the outcome though it is believed that builder offered the buyers a 1bhk unit in its Ghaziabad project which was rejected by buyers initially.
It is clear that builders have the tendency not to follow court's judgment immediately. The conscious delay is frustrating and the builder's attempt is often to enter into a settlement rather than succumbing to monetary compensation. The good part however is that the consumer stand remain vindicated after judgment.
Comments/Feedback invited.
Last updated: July 22, 2015 at 23:49 pm