NEFOWA's meeting with Supertech management on 13th Dec
In our last article, we discussed about Supertech's final demand notice for Ecovillage1 in Noida extension. The buyers were left shocked post receiving the same. The reaction was immediate.
A meeting of NEFOWA  with Supertech managment was held on this Saturday (13th December 2014) to sort out things.
Owing to tremendous pressure from NEFOWA, Supertech management  has put their extra charge demand on hold and shall get back to the buyers and NEFOWA within 10 days.
Following were the main grudges of buyers:
1. Revocation of Extra charges which are not mentioned in the builder-buyer agreement but still demanded by Supertech as part of final demand notice.
2. Objection against Increased FAR and change in layout  leading to increase in flat putting more load on the society.
3. Compensation in form of penalty to be paid to the buyers for the financial loss due to delay in possession as also mentioned in allotment.
4. Construction quality and poor workmanship issues.
Following letter was later circulated by Supertech bringing some solace to the buyers for now.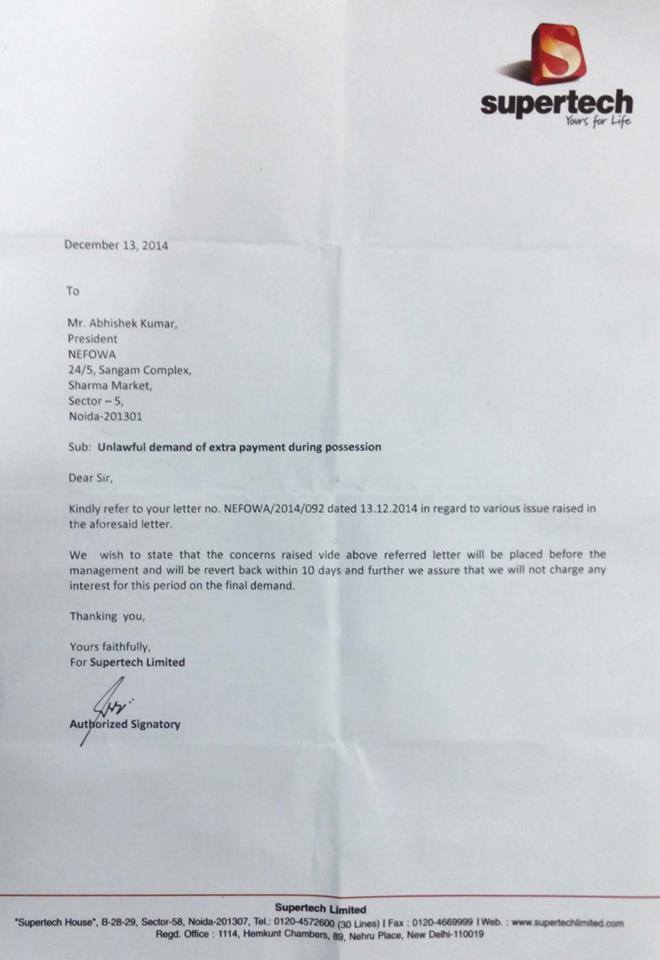 Comments/Feedback invited.
Last updated: December 14, 2014 at 21:44 pm