Reasons for under construction project delay – A survey among buyers
We conducted a survey among buyers of under construction projects at different realty hubs in the country. Mumbai, Chennai, Bangalore, NCR were covered as part of the survey. Around 600 among many unfortunate buyers responded to the survey.
As part of the survey, we came up with various statistics like reasons for delay, time taken by builder during different phases, customer service issues and other reasons for distrust.
As part 1 of the series of survey findings, we cover the main reasons for under construction project delay: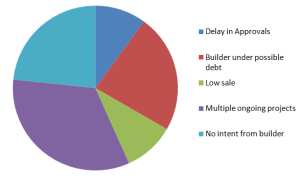 Among the top reasons for the delay are 1) 'Multiple ongoing projects of the same builder' 2) 'Builder malevolence' and 3) 'Possible debt situation'.
As per Mohit who has invested in a project in Gurgaon "Many builders end up diverting substantial money accumulated from sales of a single project into buying land for further business expansion that in turn impacts the construction speed of the project in question."
"In many cases, the builder slows down considerably after getting 90% payment from the buyers thus earning heavy interest on the sum with no major incentive left for them. Poor buyers end up hoping for a miracle" says Renu who is still waiting for delivery of the flat she booked five years back.
Some small time builders are also seen to always carry the risk of illiquidity unless the funds are managed well.
Low sale thereby leading to less capital to invest and delay in approvals from authorities (central and state) are considered to be the other prominent factors.
It is unfortunate that the buyers have to suffer for no fault of their own in each and every case.
The real estate regulatory bill if brought retrospectively could be a boon for buyers though. Keeping fingers crossed!!!
Last updated: November 4, 2014 at 21:14 pm