Sony Smartwatch review – More of an experiment
Sony SmartWatch is an initial attempt by Sony to make life more comfortable.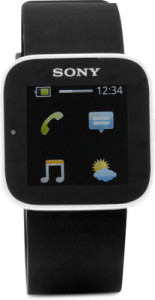 But the idea hasn't gone well with the customers in general. Even though it succeeds bridging your phone with the watch, many minute things seem to have been ignored completely.
The Sony SmartWatch helps your Android phone interface with the watch thereby helping you check alerts, messages, calls through the watch itself.
While the looks are extremely sleek and stylish, battery backup and display during day time leaves a lot to be desired.
Launched 2 years back and available at 5.3K now, this is a good option for a gadget freak looking to experiment with smart watches. However, this may not be a great choice for those looking for perfection.
Specifications:
| | |
| --- | --- |
| Functions | Date display, calendar, Other Functions Notification through Vibration and Display, Android Operating System, Music Player, Social Networking Services, 1.3 inch LED Display, 10 m Bluetooth Connectivity, Calls and Messages Synchronization, Displays Pre-defined Messages, Access of Accepting and Rejecting Calls, Calculator, Displays Messages and Emails, Google and Play Store Connect |
| Power Source | Battery Powered |
| Weight | 45 g |
| Height | 35 mm |
| Width | 35 mm |
| Thickness | 8 mm |
Disclaimer: Comparisons made above are solely based on personal experiences/user reviews with no intention of maligning any organization/product offering. Others are free to raise their counter views for readers benefit.
Last updated: October 8, 2014 at 11:37 am