Want to Invest in under construction flat in Noida? – Which location is the best?
In pursuit of a home in Noida for one of my dear friend, we traveled distances through the city and did a thorough research to gather review and updates about upcoming Noida/Greater Noida sectors (where projects are under construction).
It's suggested you refer Noida map here at authority's website before reading further:
http://www.noidaauthorityonline.com/noidamap/noidamap.html
Beginning with the exercise of traversing Noida, we started with sectors in 12X, 11X and 7X belt. Sector 121 lies on a road that connects Noida to Noida extension (now called Greater noida West). Hence, it's expected to be extremely congested in future. Moreover, the expansion of road leading to Noida extension is not on cards in near future. Ajnara Homes 121 falls in this region.
Sector 120 houses a number of projects from Amrapali, Gaur, Prateek, RG, Aranya. The entry to this sector is not smooth as of now and some efforts are on to acquire the land for building a straight road to these sectors from 75.
Sector 11X is relatively a preferred location however, issue of access remains. Unitech unihomes is yet to do justice to the region.
Sector 7X has a number of societies coming up. The location is bound to be extremely congested. The Dadri connecting road is already developed and expandable by one more lane alone on both sides. Though this houses some good projects like Sunshine Helios and better than average Mahagun moderne, the future is bleak for this region in long term due to its congested outlook. Some towers in JM Orchid, Sunshine Helios have already been offered for possession.
Just to the other side of Dadri road are sectors 107, 100, 104, 108, 110.
All these are very good locations.
Staying too close to the Dadri road intersection is not suggested as it would be a major cause of bottleneck in future.
Further up, sector 100 is an excellent location with pathways nearby and a reasonably good bungalow (low rise) residential already set up besides the group housing societies. 3C boulevard is stationed in this sector. Exactly opposite to this is sector sharanam and 3C 300 luxury project both of whom boast of a good location.
Sector 104 has ATS hamlet which is surrounded by ashram on back side and plots in sector 105 in front side. Though residential in midst of plots (unorganized as of now as only few plots are developed) looks a bit odd, it is a good location given that sector 110 is reachable from here.
Sector 108 & 110 on other hand are livable from day one. Sector 110 however does not give a feeling of luxury and 10 years down the line, this may actually not be a sought after sector. Sector 108 sits on an important exit off expressway. Unless something is done immediately to fix the exit, this would be a major source of bottleneck. Sector 93/93A has good low FAR residential options but almost all have at least 5 year old construction.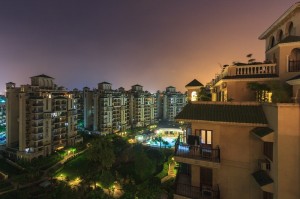 On the other side of the expressway, Sector 128, 129 are undoubtedly going to be one of the most posh locations in Noida in times to come. This is mainly courtesy the low density development by Jaypee here. The direct link to Kalindi on the back side is almost nearing completion and would be a big boon for those travelling to Delhi on regular basis. Jaypee Pavillion court, Pavillion Heights, Plots and Villas, Orchards are some of the golf course facing offerings which are priced for luxury. Among all options, Orchards and Pavillion court (PC) are the cheapest as of now, PC is however a tad better.
Sector 132, 134, 135 and 168 are further towards Greater Noida by 3-4 kilometers. The future looks bright for these sectors with both commercial and institutional coming up well. Jaypee hospital has already started operating here and a number of schools are towards this side. What needs to be seen is how this part of e-way will cope up with full capacity residential options here. As of now, it has 4 plus 2 lane service road which looks sufficient. Though exit and traffic signals need to be planned and made operational in a well thought of phased manner. Jaypee Klassic, Kosmos, Krescent Homes, Kensington Boulevard, Kasa Isles are some options in mid budget segment. 3C Zing in 168 is the last of the projects in this belt.
Sector 137 on the other side is equally good and enjoys proximity to sector 93 and 93A. Purvanchal royal park, Paras Tierea and Gulshan Vivante are few options here to look for.
Sector 143 is further 2 kilometers away and looks unlikely to be in a habitable state for at least next 3-4 years till the time sector 137 is at least 50% occupied. Gulshan Ikebana and Saha project are good options here. There are few small size plot projects but they have very few facilities to offer in sub 5 acres area hence avoidable.
Noida authority is one of the most capable district authorities I have known of. So, perpetuated development would be seen if the intent is unscathed. It is however imperative for the authority to consolidate degrading water and power situation given more so due to ever expanding boundaries and heights.
Your views are welcome as always. Please do share your feedback.
Disclaimer: Please note all attempts are made to keep reviews unbiased. There is no intent to malign image of any builder/project and reviews are based on a fair assessment of quality (that may be subjective in nature) and progress which is for everyone to see.
Last updated: September 12, 2014 at 11:43 am